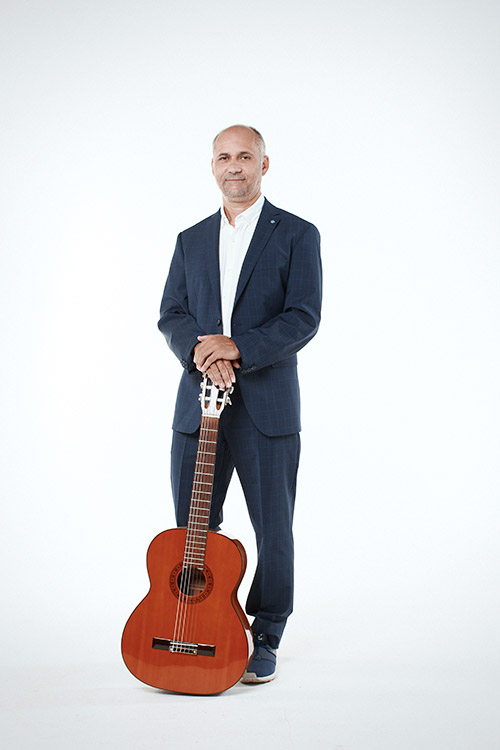 János ''Janó'' Kormos – guitar
Janó graduated from the jazz department of the Béla Bartók Vocational School of Music in Budapest and the jazz department of the teacher training faculty of the Ferenc Liszt University of Music, as a student of Gyula Babos. He has been on stage continuously for 30 years. As a jazz musician, he has performed at world festivals such as Festival International in Montreal, Nordsee in The Hague, Ost-West in Nuremberg, and Jazz Yatra in Bombay.
His favorite genre is fusion jazz-rock. He has been a member of the Szeged Péter Fusion Group for 27 years.
As a session guitarist he played with Zsuzsa Cserháti, János Bródy, Zséda and Jazz + Az. He is currently working with performers like Princess, Péter Geszti, Andrea Szulák, Csilla Szentpéteri, Tamás Hevesi, etc.
Since 1998, he has been the guitar professor of the Kőbánya Music Studio of the Trade Union of Hungarian Musicians and Dance Artists, the number one institution of its kind in the country.
He has also received Golden Giraffe, eMeRTon and Artisjus awards for his professional work several times.
Norbert Elek – band lead, keyboard
Norbert has been playing the piano since he was 5 years old: it was when he decided this will be his life, and he has steadfastly stood by it ever since. Until the age of 16, he studied classical piano, then at the Postás Music School, the Kőbánya Music Studio and the Liszt Ferenc University of Music, majoring in jazz composition and instrumentation.
"After graduating, I also taught for a few years – from elementary to university level – but due to my more frequent and longer-term invitations abroad, I have been working "only" as a composer, arranger and pianist. I stopped teaching until I could physically keep up."
As a composer and arranger, he has collaborated with many domestic and foreign productions, and currently plays in several orchestras as a pianist and keyboardist.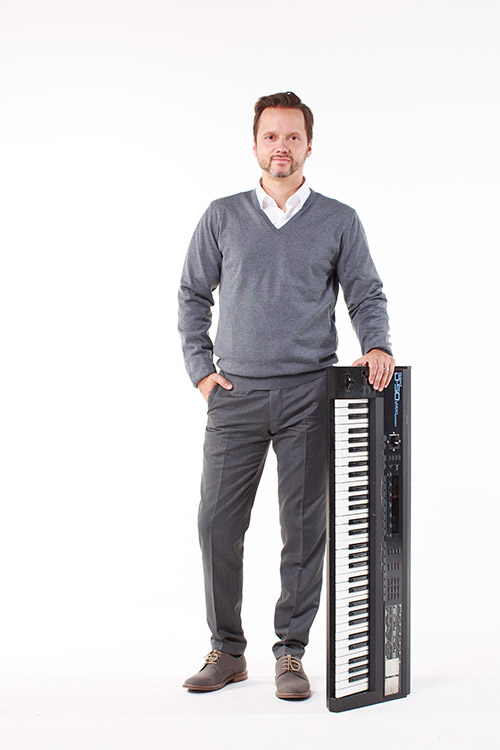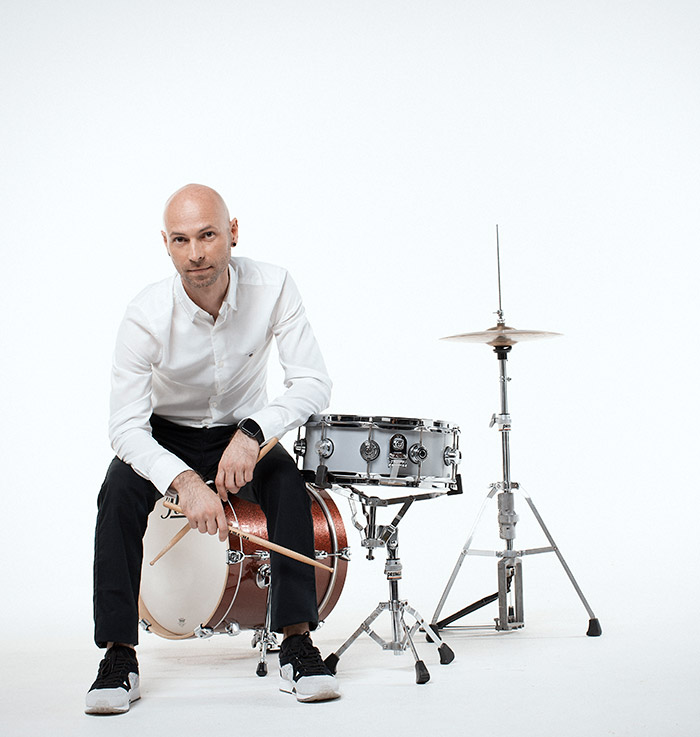 Norbert Kovács

drums
Norbi began to take drumming more seriously at the age of 16. He was a private student at the Emil Simonffy Music School in Debrecen, and later became a student of György Martonosi and Péter Szendőfi in Budapest. He was admitted to the Dr. Gyula Lauschmann Secondary School of Music Jazz in Székesfehérvár and then to the Jazz Department of the János Kodolányi College.
In 2003 he started teaching at Rocksuli in Debrecen, in 2007 he became a teacher at the Buda School of Art in Budapest, and from 2012 he is the drum professor at Rocksuli in Budapest.
He is currently a member of the Princess, Mrs. Columbo, Csilla Szentpéteri, Szilvia Bognár and etNoé, Andrea Szulák, Eszter Csákányi and participates in several theatrical productions (Hungarian Theater, HadArt Theater, Central Theater, Karinthy Theater, Ida Turay Theater).